View the latest rumours here with all details in 1 article!
The rumour mill about the 8-series had started quite a while back (to be exact: the first 8 render that was leaked by OnLeaks was in October 2019). This article is a follow-up of our previous round-up of the 8-series (which you can find in the news-section in the app) and thus mainly contains the newest leaks and information since we wrote the previous round-up. However, we will include the essential information and renders that was mentioned in the previous round-up already. This round-up reflects the latest but mostly accurate rumours (as of today). We might update this article if we get any new information.
Note: remember that, for now, those leaks aren't 100% correct. Some leakers have a good reputation - hence why we mention them, but it doesn't necessarily mean that they are 100% accurate either.
---
The new OnePlus 8 and 8 Pro are the successors of the 7T and 7T Pro and should have the latest and greatest hardware. According to Ishan Agarwal, a leaker with a quite good reputation, this will most likely be the case as he posted the specifications of the 8 and 8 Pro on his Twitter.
OnePlus 8 Pro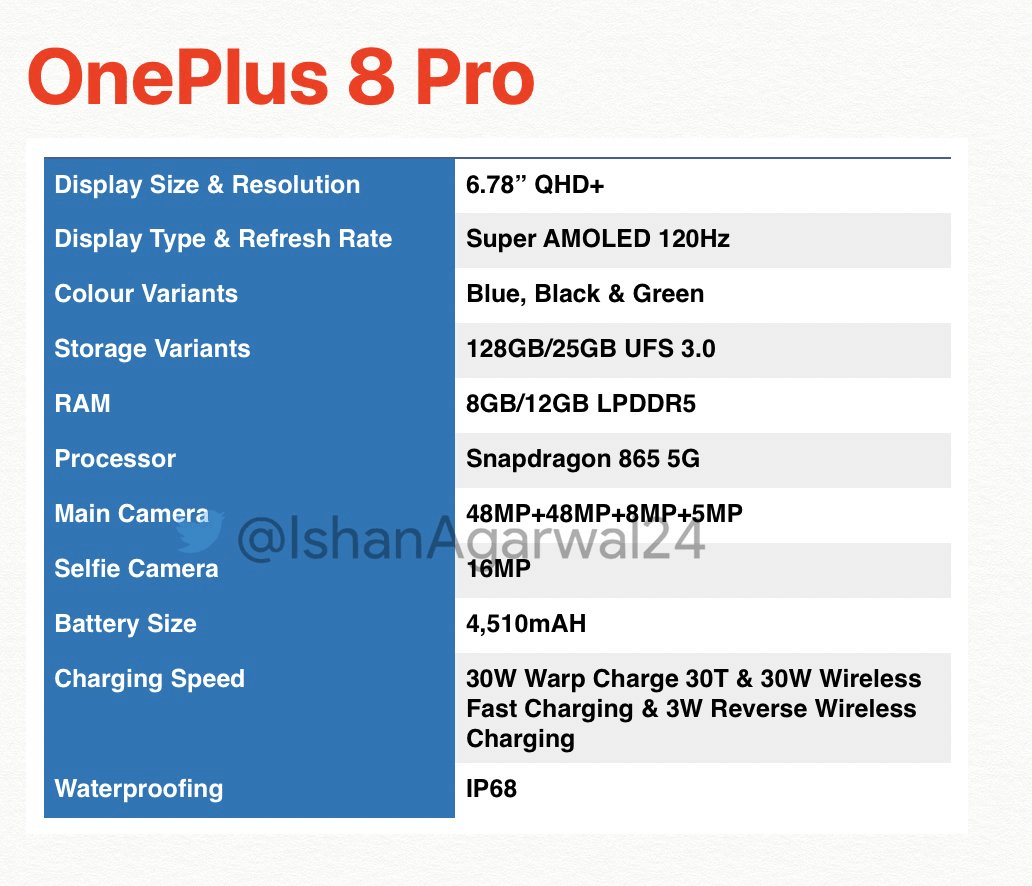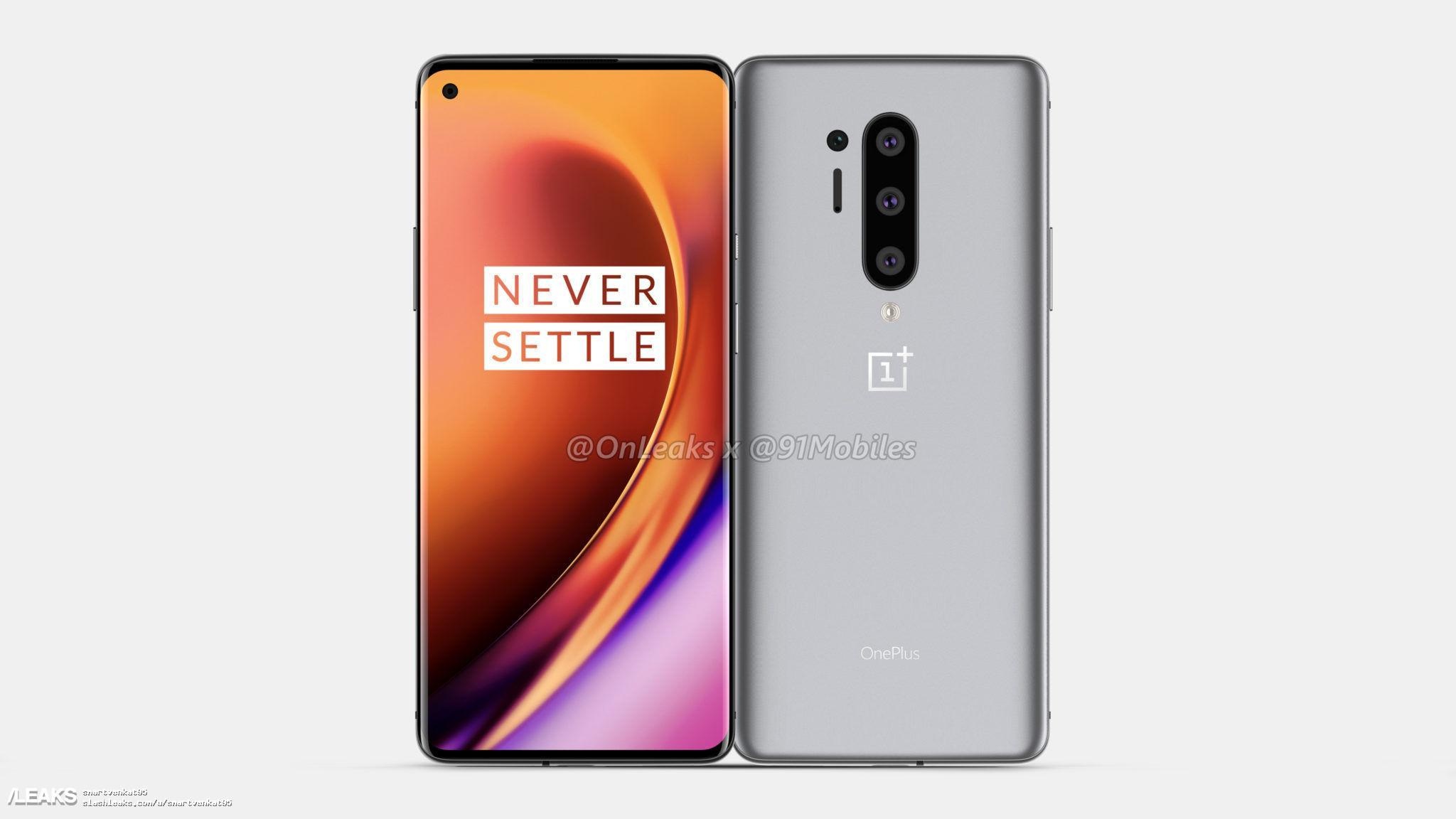 Source: https://www.91mobiles.com/hub/oneplus-8-pro-renders-images-quad-cameras-punch-hole-display-exclusive/
Source: https://twitter.com/BenGeskin/status/1244696469548019716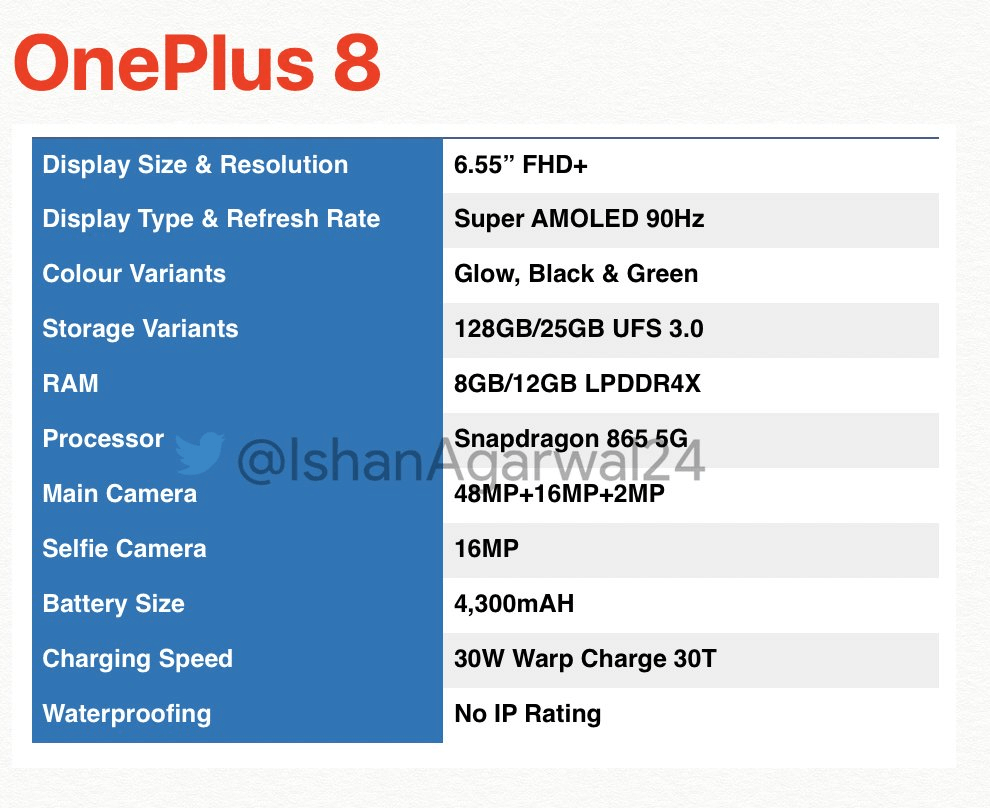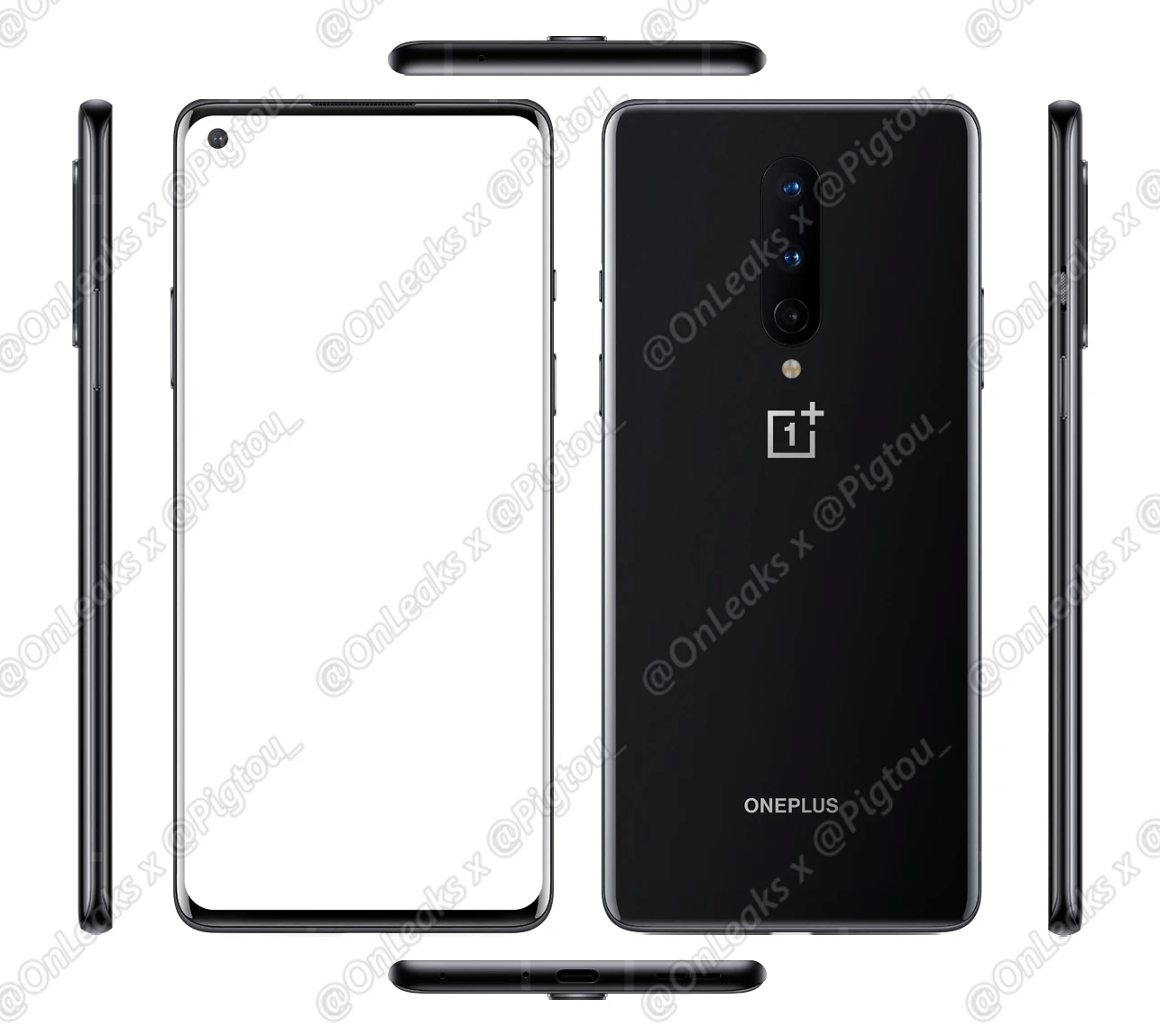 Source: https://pigtou.com/blogs/android/exclusive-oneplus-8-official-press-renders-and-specs-leaked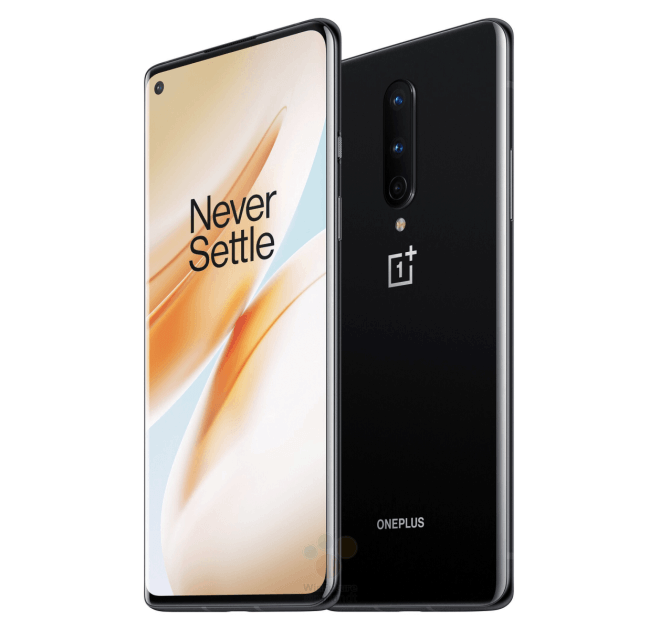 Source: https://winfuture.de/news,114964.html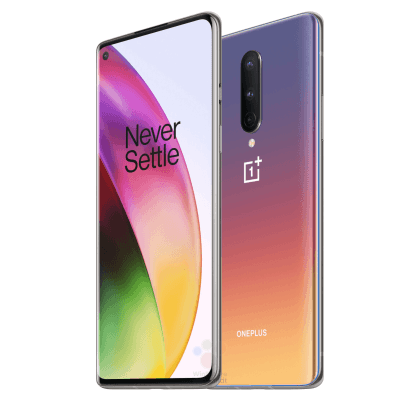 Source: https://winfuture.de/news,114964.html

Source: https://twitter.com/evleaks/status/1247422987185389573
Display
As you can see, the 8 Pro will have a 6.78" AMOLED display with a refresh rate of 120Hz and has a resolution of 3200 × 1800 pixels. This display will also have a touch input rate of 240Hz, which means a faster experience due to decreased touch latency. OnePlus confirmed this in a post. Regarding the display specifications, Ishan said the OnePlus 8 Pro will have a "Super Fluid Curved 120hz display" which should have more accurate colours and bring other improvements compared to the previous displays that OnePlus used in their 7T-series. Further, it will contain an MEMC chip (Motion Estimation/Motion Compensation), HDR10+, and maximum 1400 nits brightness with AoD functionality on 10bit HDR. OnePlus explained the advantage of the MEMC chip in this tweet.
Recently, the lab test results of Displaymate - an instantion that tests displays - got leaked and PcMag published the lab results of the 8 and 8 Pro. PcMag says that "the new OnePlus 8 phones match or beat leading competitors like the Galaxy S20 Ultra and the iPhone 11 Pro Max in a rigorous series of display tests."
The regular 8 will get a 6.55" AMOLED display with a refresh rate of 90Hz and has a resolution of 2160 x 1440 pixels. At the moment of writing, no further display specifications are leaked.
Colour variants
The 8 Pro will be available in "Ultramarine Blue", "Onyx Black" and "Glacial Green", Roland Quandt (OnLeaks) said. There's also a gray render, but OnLeaks doesn't mention this colour while a render of the 8 Pro in gray was posted by OnLeaks.
The 8 will be available in "Glow", green and black according to Roland.
Storage variants/SoC/RAM
Further, the 8 Pro will have 2 storage & RAM variants: 128GB storage with 8GB RAM and 256GB storage with 12GB RAM. OnePlus already confirmed they will use LPDDR5 RAM and UFS 3.0. However, UFS 3.1 is out and is used in a few flagships already. Instead, OnePlus decided to use UFS 3.0 in combination with "Turbo Write" and "Host Performance Booster", which should improve performance. All the phones in the 8-series will also get the Snapdragon 865 with dual-mode 5G, which will be extra costly. This in the end means that we can expect a big price bump of the 8 and 8 Pro. The Snapdragon 865 contains the Adreno 650 and has 8 cores. You can check more specs of the Snapdragon 865 here: https://www.qualcomm.com/media/documents/files/qualcomm-snapdragon-865-5g-mobile-platform-product-brief.pdf. The OnePlus 8 Pro (and 8-series in general) will also get support for Wi-Fi 6, Qualcomm said.
The regular 8 will get 128GB of storage together with 8GB of RAM. There's also an option for the variant which has 256GB of storage and 12GB of RAM. In comparison with the Pro-variant, the 8 will have LPDDR4X instead of LPDDR5. The reason OnePlus chose for this is probably to have a noticeable difference in terms of price and specifications. The regular 8 also uses UFS 3.0.
Benchmarks of the 8 Pro have also been leaked on Geekbench. The Multi-Core Score is 3398 while the Single-Core Score is 906. Mind that synthethic benchmarks (that simulates real life applications) aren't representative for the real life experience. So, you should take those scores with a pinch of salt as they don't say everything. However, from this page we can understand that this variant has 12GB RAM, is an Indian variant and that it has 8 CPU.
Cameras
The 8 Pro will apparently get 4 cameras on the back. The primary one is the IMX689 of Sony: a flagship sensor with an aperture of f/1.78. The smaller the number, the bigger the lens and thus the more light it is able to catch. This should result in better photos in low-light scenarios.
The second camera is the same camera as on the 7(T) (Pro). It's a 48MP Sony IMX589 and will be used as a wide-angle lens, which will be able to display 120 degrees.
The third sensor will be an 8MP which is a telephoto lens (f/2.44), which offers 3x optical zoom and 30x digital zoom.The fourth will have a 5MP camera which will function as a colour-filter, which should help with low-light as well. Ishan claims that OnePlus will also improve OIS, EIS, "night portrait mode", "3-HDR" video and cinematic effects.
It's quite disappointing to see that OnePlus won't be using a 64 or 108mp camera, but we've yet to see how much it will differ in real life in terms of performance. More megapixels is not always better, as pixel and sensor size also matter.
The front camera will again be a 16MP camera, just like with the 3T and newer. However, some other sensors were used between the 3T and 7T Pro as front camera.
The regular OnePlus 8 will have 3 cameras on the back:
An 48MP camera
A 16MP camera
A 2MP camera
Even though the sensors that will be used for the regular 8 haven't been revealed by leakers, it might be that the first sensor will be the IMX689 as well, just like on the Pro-variant. Specs are mentioned above about this primary sensor. The second sensor might function as a wide-angle lens, while the 2MP (third sensor) could be a colour-filter sensor.
Battery
According to Ishan, as you can see in the table above, the OnePlus 8 Pro will pack a 4510mAh battery. This is a high requirement, as 5G and a 120Hz display probably drain a lot of energy. The regular 8 will get a 4300mAh battery.
Charging speed
In January 2020, there were already rumours that the 8 Pro would support wireless charging, which was posted by Max J.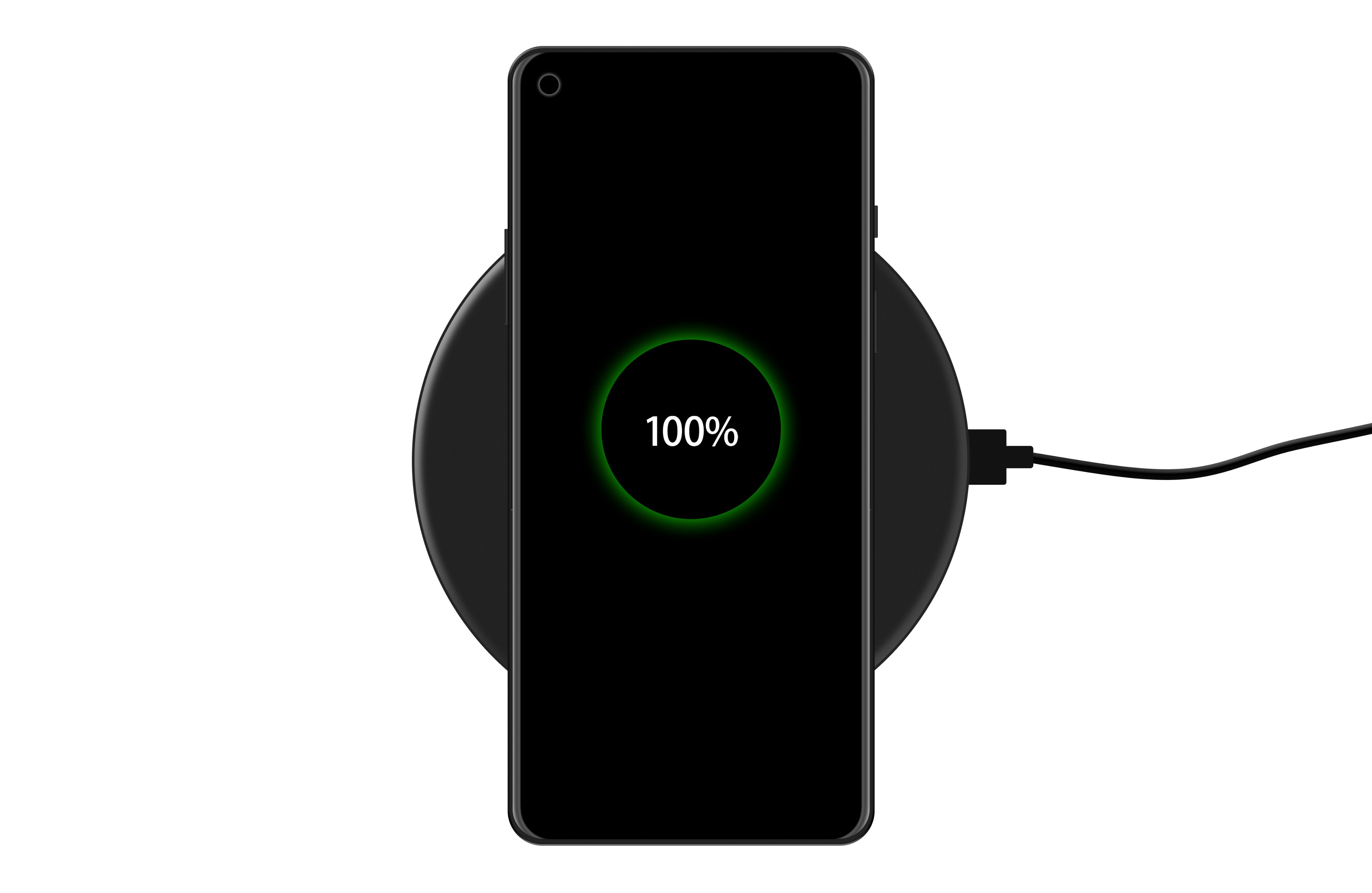 In January, OnePlus also joined the Wireless Power Consortium, which indicates that they are indeed working on a wireless charging implementation. If you're a member of the Wireless Power Consortium, you will automatically work with the Qi standard.
In the beginning of March, a new leak of Ishan Agarwal implied that OnePlus would implement 30W wireless charging.
This leak (including others) also stated that you'd be able to charge by wire with 50W (10V 5A). In the end, this is most likely not the case as you will read below.
It seems like OnePlus will still use Warp Charge 30T on the 8 and 8 Pro. Even though the 8 Pro is their most expensive model and other companies like OPPO and Realme (both sister companies of OnePlus) have either 50W or even 65W charging, OnePlus seems to stick with 30W charging for both phones. It might be possible that OnePlus will make this an exclusive feature for a probable McLaren edition, or the 8T-series.
Edit: today, on the 7th of April, tech account TechDroider tweeted that the 8 Pro will have a wireless charger which will charge your 8 Pro to 50% in 30 minutes, while a full charge should take 80 minutes. According to the tweet, the charger will also have a fan which should cool the pad, an "AI sleep mode" which turns off the fan at night (or when you're not charging, probably), dust detection and overheat protection. The price would be around 70 euros in Europe. That's about 76 US dollars/61 pounds/5751 Indian Rupees.
Evan Blass also posted press renders of the wireless charger on his Patreon.

OnePlus has also announced on their forums that the 8 Pro will get 30W wireless charging: Warp Charge 30 Wireless – All power, no wires.
Size & weight
The 8 Pro will be lighter than its predecessors, Ishan said. For example, the OnePlus 8 Pro is 198 grams, where the 7T Pro was 206 grams. It doesn't differ much, but the regular 8 will be 178 grams, while the 7T was 190 grams. Further, the 8 Pro will have a punchhole of 3.84mm while the regular 8 will have a punchhole of a bit more: 3.95mm. The differences aren't big as you can see.
Where OnePlus said last year their 7T won't have an IP-rating due to increased costs and prices, it is now leaked that the 8 Pro will have an IP68-rating. However, the regular 8 won't get an IP-rating.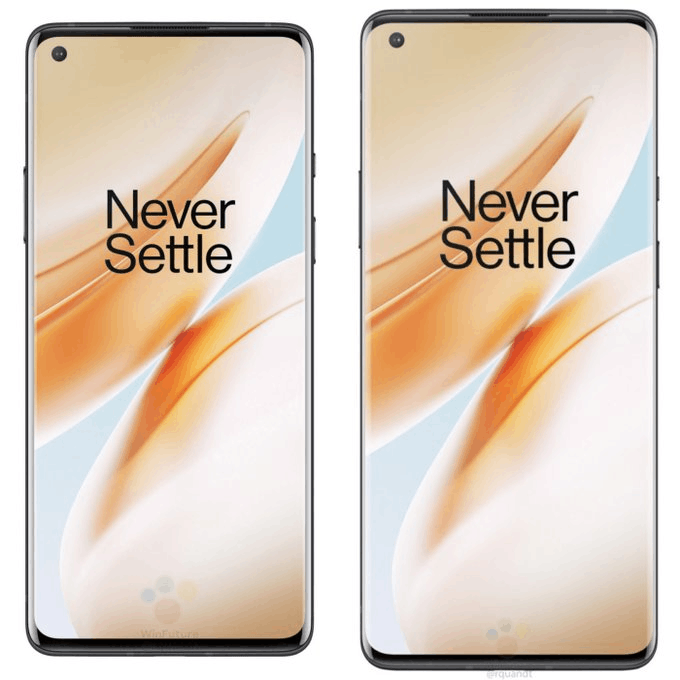 The phone at the right is the 8 Pro. The left one the regular 8. The chin and top bezel are also bigger for the regular 8 as you can see. Plus, the edges of the 8 Pro will be more rounded.
Price & availability
Because OnePlus wants to grow as a company, the 8-series will again be higher priced than its predecessors. 5G, 120Hz and wireless charging are probably the main cause for the price bump. It was also said that the 865 is apparently an expensive SoC to implement in combination wiht the X55 modem of Qualcomm. In an interview with Business Insider, Pete Lau revealed both phones will be priced under 1000 USD.
OnePlus has announced that they will announce the 8-series on the 14th of April via an online event due to the Coronavirus pandemic. You'll be able to watch the livestream either here or here.
---
We will write a new news article dedicated to the upcoming Z-series of OnePlus. Stay tuned!