Two budget phones which will be launched globally (including the US this time)
OnePlus launched a relatively cheap phone, compared to its other flagships, more than a month ago. The device is 399 EUR (379 GBP / 27,999 INR / 474 USD) and generally offers a good bang-for-buck. However, for some people the device is still too expensive. In addition to that, the Nord isn't sold in the US and thus people from the US are not able to buy it. Importing the device is possible. To control a more diverse market, OnePlus will launch two cheaper devices with codename "billie" (also known as "Clover" in this article) and "billie2T", which will be released in the US as well.
---
Specifications
On the 11th of July, more than a month before the release of the Nord, benchmarks of the alleged "billie2T" (model name: OnePlus BE2028) Nord-device already showed up on Geekbench. This is probably going to be a more expensive device than the regular "billie", as it has better specs. As we can see on the screenshot, it will run Android 10 out of the box. Furthermore, the device will pack a Qualcomm Snapdragon 690 5G, together with 6GB of RAM. The reason why Sudhanshu, the original poster of the tweet, knows is probably because the Snapdragon 690 5G has six cores running on 1.7GHz and 2 cores on 2GHz. This is in line with what we can see on the screenshot below. Qualcomm announced this SoC two months ago.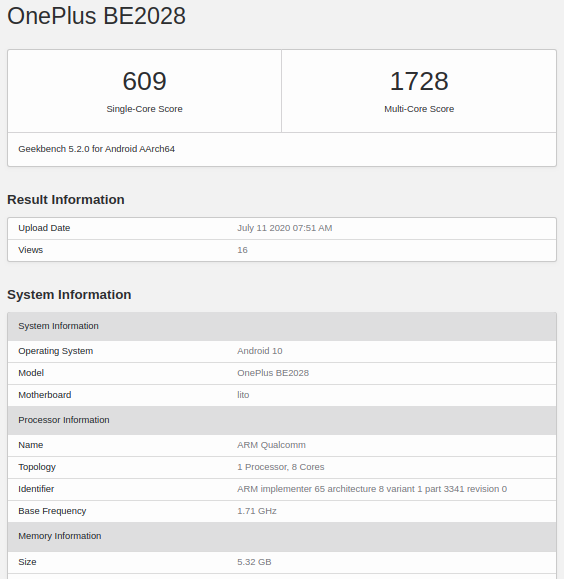 Image credit: https://twitter.com/Sudhanshu1414/status/1281882273579589634
XDA-Developers has found some relevant "billie" strings in an OxygenOS-version for the OnePlus Nord. Multiple calls were found in the Settings APK. One of these calls referred to "isSM6350Products". According to XDA, this method checks and returns true if one of the following models exist: "BE2025", "BE2026", "BE2028", or "BE2029". The call of "SM4250Products" checks if the board (SoC in this case) "bengal" exists. "bengal" is the code-name of the Snapdragon 460 Mobile Platform. The "isSM6350Products" may refer to the Snapdragon 690 Mobile Platform, which corresponds with the benchmark that was found.
Image credit: https://www.xda-developers.com/next-oneplus-nord-5g-qualcomm-snapdragon-690/
Our team member OneNormalUsername found out that there are two other "billie" devices, named "billie8" and "billie8t". We must say there's no information about it yet. We think that "billie2t" and "billie8t" may be carrier variants for T-Mobile USA, as they have a "t" appended, which would follow up with previous devices: OnePlus 6T codename is "fajita" and its T-Mobile USA variant codename is "fajitat".
AndroidCentral got an exclusive leak tipped. This leak refers to a codename named "Clover", which is probably a device in "billie" family. The reason for this is that, according to this leak, the device will have a Snapdragon 460 combined with an Adreno 610 GPU. This also corresponds with what has been found by XDA in the Settings APK of an update for the OnePlus Nord. The device will have a 6.52-inch 720p display, which is likely to be an LCD IPS display. It's surprising to see that OnePlus definitely cut costs by not choosing for an AMOLED display instead. The phone should come with 4GB of RAM and 64GB of storage. We may think it is UFS 2.0 or 2.1 to cut costs. On the back there will be three cameras: a 13MP (f2/2) primary camera and two times a 2MP camera which both have an aperture of f/2.4. The battery will have a 6000 mAh battery, which means the device may be heavy, compared to other phones as most phones nowadays have a 4000 - 4500 mAh battery. Another thing that's surprising to see is that the phone will have a headphone jack, which was first ditched with the OnePlus 6T. Again, 18W charging is confirmed, as we could see earlier at the certification of TÜV Rheinland Japan. The phone will be around 200 USD and thus will be sold in the US and the rest of the world, so most likely Europe and India as well.
Design
Max J posted renders (in collaboration with Concept Creator) of both devices. Mind that however those renders are probably concepts. It's not clear if those should be taken with a pinch of salt or not. From this image we can understand both devices will have three cameras on the back. We can also see a headphone jack on the bottom of the phone, as well as the alert-slider on the side.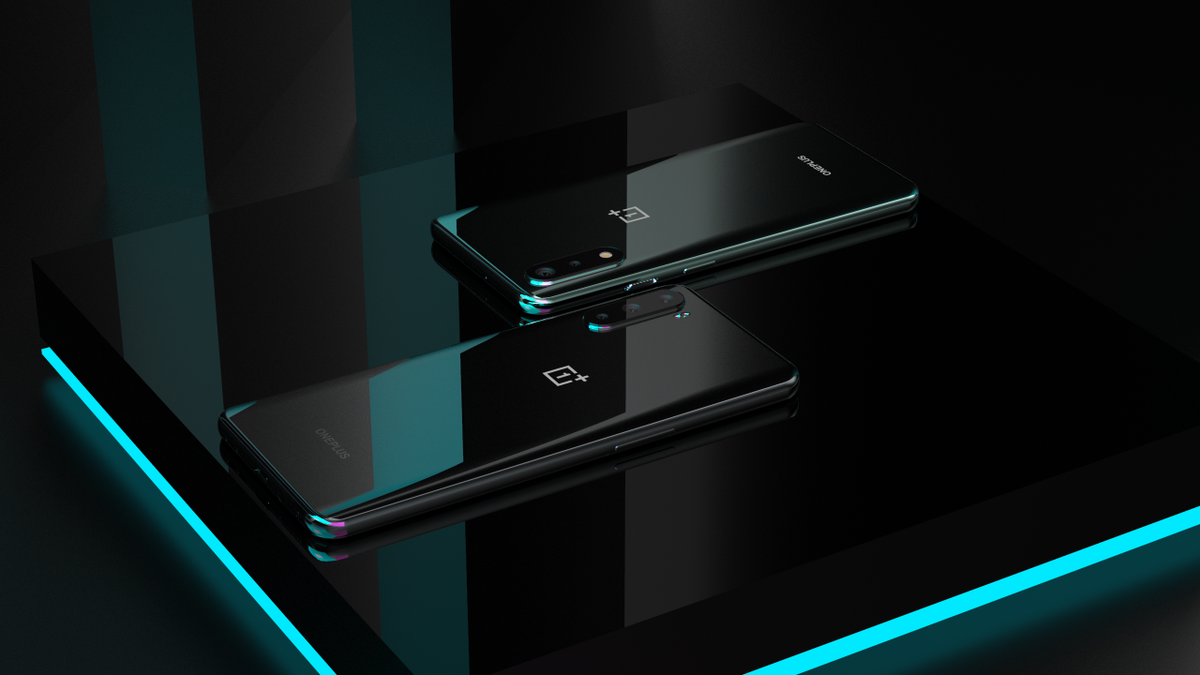 Image credit: https://twitter.com/MaxJmb/status/1289902659097341958
Charging
Sudhansu, who also posted an image of the Geekbench result, posted a tweet on the 17th of August where we can see the certification of a 18W charger. The charger charges the phone with 9V 2A, which makes it 18W. This could mean the charger will be one that supports Qualcomm's Quick Charge. The certification was found on TÜV Rheinland Japan.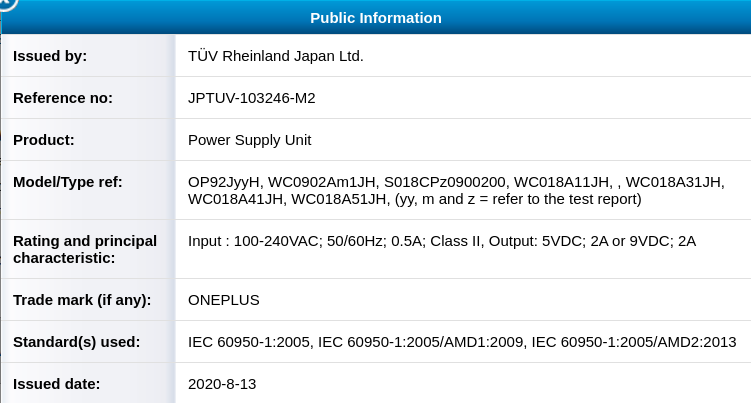 Image credit: https://twitter.com/Sudhanshu1414/status/1295358625620176898